SUNDAYS #6 vs. JAGUARS:
(vol. 43S, no. 6; newsletter by h.s.)
Going into the final game before the Halloween break the Pirates were 3-3 and had a chance to break .500 against the Jags. Unfortunately our Captain is still sidelined with an (undisclosed so not to give away information to the opponents) injury and the football season is going on. Those events together mean that finding a sub is nearly impossible. As I went down the list — Baio, McLaughlin, Maccanico, Trochiano, Scooby, Farrell — it became apparent that the Pirates were going to have to do this with nine skaters. The good news was that Joe Nigro filled-in for Tim, subbing his fourth time in four games.

For a change of pace the Pirates had the trio of Gesior-Nigro-LeMatty rotating on defense, while DiPierro centered Milo and Farkas, and #67 centered DiPierro and Rud. The first 5:00 minutes it was all Jags as they showed solid puckhandling and were working our zone well. They had three or four scoring opportunities in the opening minutes, but fortunately rebounds were scarce and we turned the tide about 7:00-minutes in when Glenn scored his second and third goals of the season (from Charlie and then Dan). The Jags seemed unimpressed by the 2-0 deficit and kept hammering away, but a late goal by Ed outside the face-off circle with :90 seconds left in the 1st period noticeably deflated them.

The start of the final period was similar to the game's beginning: The Jags were rushing and turning away our shots (their keeper made a number of nice saves to keep it close). Finally it was Dan on the doorstep who slammed-dunked a shot/pass from Nigro that gave us the comfortable 4-0 lead. (Many of us thought Rud hit this one in since, but after the game he said he actually hit Dan's stick he was so close). Any hope of comeback was shattered on the next shift when #67 put one in from his knees (or his back) for the 5-0 lead. Charlie would add his own slam-dunk goal (a mirror image of Dan's on the opposite side) and then LeMatty would add the final tally of the night— his sixth in five games — with just over 2:00-minutes remaining.

The team did a good job on helping preserve the shutout by keeping the puck deep in the final minutes ... except for a slight defensive lapse with :10-seconds remaining that resulted in a shot and two rebounds, that one Pirates said was "to make you earn the shutout."



FOR THE RECORD
Attendance (players): Cassens, DiPierro, Farkas, Irausquin, LeMatty, Milo, Newcomb, Gesior (sub), Nigro (sub). Net: Harris.
Scratches: Gucci, Hand, Nicolosi.
Scoring: 1st period: 3-0 Pirates: Goals by Farkas (Milo); Farkas (DiPierro); Gesior (Newcomb). 3rd period: 7-0 Pirates: Goals by DiPierro (Nigro); Newcomb (Gesior); Milo (Newcomb, LeMatty); LeMatty (Newcomb).
date of game: 10.24.10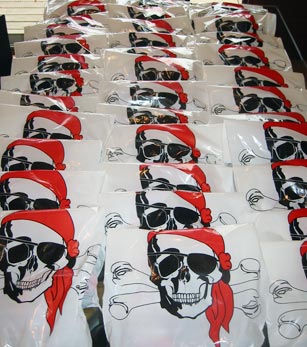 BAG OF TRICKS (AND TREATS)
Production is done and the 2010 Halloween bags are being distributed. Once again a limted number of bags include vintage hockey cards containing vintage 20-year-old bubblegum, so please monitor your treats before the kiddies get into them. Happy Halloween everyone!