SUNDAYS #7 vs. LUNCH LADIES:
(vol. 43S, no. 7; newsletter by h.s.)
A week is probably too long to wait to write one of these, but all I can say is that I've learned "you get what you pay for" ... and if you pay your writers in Pabst then you get Pabst-quality deadlines. And now back to the game ...

Coming to the homestretch of the season the Pirates were 3-3-0 and looked to go above .500 for the first time in this season. The opponent was the Lunch Ladies who handed us a 4-3 loss back in Week 3. Ironically the outcome would be the same this night. With our Captain sidelined for the second straight week to an injury sustained in Week 5, the Pirates rotated three defense. We played a heck of a game — oftentimes outhustling the Ladies and pressuring the always-solid John Arena in net. Afterwards Dan DiPierro said that with Russ in the line-up that would've swayed this one in our favor, and I have to agree.

The Ladies drew first blood this night, but Gucci scored a highlight-reel, Jai Lai-type goal after his original shot bounced off the back glass and back to his own stick for an unbelievable rebound. (Scott LeMatty said Gucci earned both the goal and the assist on that one.) Great end-to-end action filled the rest of the period, but at the break the teams would still be knotted at 1-1.

Both Gucci and I had better 1st periods than second, as all three Ladies' tallies came from the left-point passed the both of us; Gucci told me I need to tell him if he screens me and I suggested that he may want to lay down occasionally and block some of these — we "finally agreed to disagree." Fortunately Tim Hand had the hot hand and scored twice to keep us within reach throughout the period. A Pirate powerplay with numerous chances and the final moments with the extra skater for a thrilling finish, but the Pirates couldn't get the tying goal and we slipped to 3-4-0 with one regular-season game left.

There was another bizarre thing that needs mentioning: Twice during this game a member of the Ladies successfully did that trick where you bang your stick and call for the puck from the opposite team. Now I've seen this attempted dozens of times, but I've never witnessed it working so flawlessly; in both periods we had possession of the puck deep in the Ladies' end and this guy would start banging his stick and — WHAMMO! — we passed a blind shot right to the tape of this stick. It was amazing in a bad sort of way.



FOR THE RECORD
Attendance (players): Cassens, DiPierro, Farkas, Gucci, Hand, Irausquin, LeMatty, Milo, Newcomb. Net: Harris.
Scratches: Nicolosi.
Scoring: 1st period: 1-1 tie: Goal by Gucci (none). 3rd period: 4-3 Ladies: Goals by Hand (LeMatty); Hand (LeMatty).
date of game: 11.14.10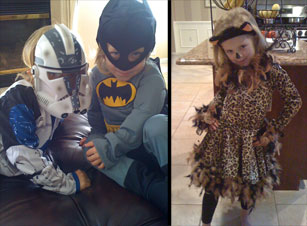 HALLOWEEN RETROSPECTIVE
Although we didn't play last week, the Farkas family were busy in the neighborhood going trick-or-treating. From left: Cruz, Luke and Ella were a Stormtrooper, Batman and Pussycat. Needless to say, Glenn had to "inspect" (i.e. eat) the candy when they returned.