SUNDAYS #8 vs. BULLDOGS:
(vol. 43S, no. 8; newsletter by b.n.)
To take a page from Russ, I am writing this from 287 ... It's bumper-to-bumper so that makes it ok.

Anyway, according to Harris, he contacted 8 players to try and sub. To no avail as the Pirates started in ironman formation. Eddie was late to the bench because he forgot his helmet (he eventually tracked down a lacrosse helmet) ... Wildman was late, because he is Wildman.

The Pirates were up against the Bulldogs and it was Rud who put the Pirates on the board first as he converted his own rebound. It was close for a while but, after a flurry in the final period the Pirates could not recover ... losing by the score of whoop! whoop!



FOR THE RECORD
Attendance (players): Cassens, Farkas, Irausquin, LeMatty, Newcomb, Nicolosi, Gesior (sub). Net: Harris.
Scratches: DiPierro, Gucci, Hand, Milo.
Scoring: 1st period: 2-1 Bulldogs: Goal by Irausquin (none). 3rd period: 5-1 Bulldogs.
date of game: 11.14.10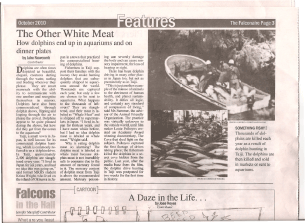 THE RETURN OF THE (VERY) INSIDE JOKE
This will be pretty meaningless unless you: Have read the "The Hitchhikers Guide to the Galaxy"; enlarge the image above (by clicking on it) and read the byline; and hang around with #67 in the parking lot talking about "The Hitchhikers Guide to the Galaxy." Actually even if you do that it still won't mean a whole lot but ...


LOST 5-1
THE
SILVER
SKULLS




1) RUD IRAUSQUIN
For the lone tally.

2) RUSS NICOLOSI
For playing tough (even though still hurt) and making the game (even though he had to exit on the fly to make his ice game after).

HM) JOHN CASSENS
For hanging out with Brooke Shields at Studio 54 (seriously).