WEDNESDAYS #2 vs. PHANTOMS:
(vol. 43W, no. 2; newsletter by r.n.)
editor's note: The Cap'n reports on the game and festivities ...
The Pirates just couldn't wait for "Piratefest" this year and came up with the interim "Parkingfest I" for the post game on a steamy Wednesday night. The problem was that the Pirates showed up and started thinking about sliders and beer before thinking about passing, back-checking and goals.

The 1st period was a fairly ugly display as the rather chippy Phantoms out-hustled and certainly out-slashed their way to a 3-1 lead. The reality of a parking lot party after a loss kicked-in during the intermission and we finally started taking things into our own hands. There were many uncalled penalties on both sides and once we realized that Vincent and Scott were going to let us play, we did. From that point on we hammered our way back into the game, grinding out goal after goal for a 5-3 victory. This game was won by the guys who went into the corners and behind the net in the final period and won nearly every scrum. KennyG started standing up their over-zealous center on each face-off and I even decided to stop one dasher-side rush by standing my ground. We adopted to the situation and earned the victory.

Notably, Marty scored two big goals and Scott had a very nice deflection. Eddie stayed out of the penalty box in a fairly rough game and Harris controlled the puck nicely in our end in the last period. A nice gritty win and the appropriate kickoff to our mid-Summer celebration.

The party was a glorious affair with food and beverages of every sort. Eats from India to Avon-by-the-Sea and beer from Colorado, Pennsylvania and Newark. I believe the soda was from the Asbury Park Coca-Cola distributor. Kudos to Brian (and son Dave) for being the ultimate team guys by showing up early for their later game and for ordering pizza. Cheers to Kate and Mike for ensuring at least a few fans were at the party (as well as some wine and good looks). Scott Miller manned the portable slider table and whipped-up his legendary sliders while wearing rubber gloves. (More than a few of us validated that this was the first use of that particular glove). Gucci made his cameo, incognito as Joe Baio in the 1990 Eclipse, and handed out goodies and good cheer to all the Pirate campers. Honorable mention to Troch for coming and hanging with us. As always thanks to #88 for the stogies.

One of those nights that will be etched in our memories for the fun well-earned victory but mostly the good fellowship and laughter ...

FOR THE RECORD
Attendance (players): Cassens, Farrell, Genalo, Gesior, LeMatty, Maccanico, Matthews, McLaughlin, Miller, Nicolosi.
Scratches: none.
Injured Reserve: Gucci (season, bicep).
Scoring: 1st period: 3-1 Phantoms. Goal by McLaughlin (none). 3rd period: 5-3 Pirates: Goals by LeMatty (Nicolosi); Maccanico (Genalo); Maccanico (Farrell); Genalo (Gesior).
date of game: 8.11.10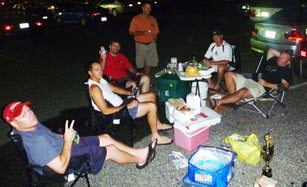 PARKINGFEST I: THE REMNANTS
The first-ever "Parkingfest" lasted hours with more than 20 Pirates, former-Pirates, friends — and even refs — stopping by. Above, the last of the die-hards surrounded by the five pizzas and pulled pork that once was.