WEDNESDAYS #3 vs. CANNIBALS:
(vol. 43W, no. 3; newsletter by h.s.)
This is one of those games where afterwards you say "Now, that wasn't worth staying up till 10 o'clock at night for."

FOR THE RECORD
Attendance (players): Cassens, Genalo, Gesior, LeMatty, Maccanico, McLaughlin, Miller, Nicolosi.
Scratches: Farrell, Matthews.
Injured Reserve: Gucci (season, bicep).
Scoring: 1st period: 5-1 Cannibals. Goal by Maccanico (Genalo). 3rd period: 7-3 Cannibals: Goals by Cassens (Genalo); Genalo (Nicolosi), PPG.
date of game: 8.18.10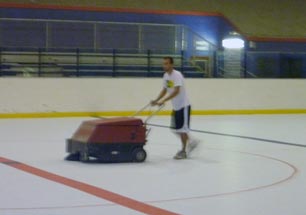 THEY REALLY DO USE IT!
The Pirates received this exclusive photo showing the GoodSports Zamboni being piloted by scorekeeper/maintenance Alex Pastore. This rare image is still at the laboratory however, as experts are not convinced that the floor has ever been cleaned.