WEDNESDAYS #6 vs. BIG SLICK:
(vol. 43W, no. 6; newsletter by h.s.)
We had all the right ingredients for this game: The Marty-KennyG-Miller line was all present, and #67 was even able to sub and center our second line of Wildman and LeMatty. Rounding out our full 10-man crew were a formidable foursome on defense: Kevin, Joe Nigro, Eddie, and Dave. Maybe what was lacking was "Chef Russ" to add the "Bam!"

It started out close as the teams had a scoreless 8:00-minutes, then they scored. Then we answered back on the next shirt (Wildman from KennyG). Then they scored the first of two bizarre goals, followed by a nice goal.

Late in the final period Kevin did a coast-to-coast move to bring it within two again, but unfortunately we never answered back, even though we had a spirited last :90 seconds with the extra skater. We'll put this game in the "one that got away" file and hopefully we won't be following this recipe again.

FOR THE RECORD
Attendance (players): Cassens, Genalo, Gesior, LeMatty, Maccanico, Matthews, McLaughlin, Miller, Gucci (sub), Newcomb (sub). Net: Harris.
Scratches: Farrell, Nicolosi.
Scoring: 1st period: 3-1 Big Slick: Goal by Cassens (Genalo). 3rd period: 4-2 Big Slick: Goal by McLaughlin (none).
date of game: 9.13.10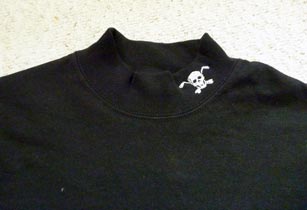 THEY'RE HERE!
The Embroidered Pirate mock turtlenecks (just like the NHLers) are in the house! Members of the Championship team from last Wednesday season can look for their swag at this week's game.