WEDNESDAYS #8 vs. BRUINS:
(vol. 43W, no. 8; newsletter by b.n.)
You know ... As everyone knows ... That the internet is "discoverable" ... And I only know that because Russ told me that. And why is that important? ... Oddly enough ... Eddie Geisor was listed as "AWOL" for this game. Which is odd. Especially since Ed showed up for the 9:00p.m. game (that was a game with the Geriatrics and the Hocky Teem)

... And since we are in the discovery mode ... It must be duly-noted that Harris sent out an email saying that the Wednesday game was at 9:00p.m. (I know what you are thinking: "Yeah, but Harris sent out a correction 5:00 minutes later" ... doesn't matter ... The damage was already done. The 9:00p.m. game time was etched in Ed's memory and there was no way to change it. (Ed did admit that there were further emails that went out, but he assumed it was the standard B.S. that goes out periodically)

... So you would think that if Ed was in fact "AWOL" ... Then the Pirates should have only had 9 skaters ... But they had in fact 10 skaters ... It was if Harris knew that Ed was going to be a no-show ... And how would he know that? ... Dunno ... Maybe that original email was no accident.

(Oh, yeah - we won the game in Overtime).

FOR THE RECORD
Attendance (players): Cassens, Farrell, LeMatty, Maccanico, Matthews, McLaughlin, Miller, Nicolosi, Baio (sub), Newcomb (sub). Net: Harris.
Scratches: Genalo, Gesior (AWOL).
Scoring: 1st period: 1-0 Pirates: Goal by Cassens (Maccanico). 3rd period: 2-2 tie: Goal by McLaughlin (none). OT: Goal by Nicolosi (LeMatty).
date of game: 9.29.10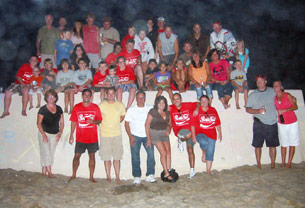 PIRATEFEST V: "BACK TO THE BEACH"
(Click image to enlarge) On a perfect September 25th day, dozens of Pirates and their families converged on the McLaughlin residence for the 5th Annual PirateFest. The Pt. Pleasant house was home to the first Pirate party and our Captain has raised a proposal that the beach house be made the "Permanent Site of PirateFest." No word from Kevin on that ...

[ piratefest V gallery / coming soon! ]




WON 3-2 (o.t.)
THE
SILVER
SKULLS




1) KEVIN MCLAUGHLIN
For the game-tying goal. (He called it too, saying "I guess I'll take it this time" as he began skating up ice.) Oh, and for hosting PirateFest too.





2) MEGAN MCLAUGHLIN
Above: For hosting (along with brother Kevin) an epic — and I mean epic — PirateFest V. Megan left no detail undone: Pirate napkins tied with ribbons, Pirate decor, hors d'oeuvres, etc, etc. Simply amazing. Megan becomes the second non-Pirate to ever to receive a Silver Skull.

3) RUSS NICOLOSI
For the huge, overtime gamewinner.