SUNDAYS #5 vs. CANNIBALS:
(vol. 44S, no. 5; newsletter by no one)
editor's note: Once again we have no newsletter for this game (just a few comments below). I do, however, encourage you to utilize the email link below that we have set-up so you can address your complaints directly to our Head of the Newsletter-Writing Division: PirateNewsletter.Complaints@coastalpirates.com

Here are some comments I received via email about this game: "Big team effort. First with a short bench the three D amigos and Frank held us in the game while our opponents were skating circles around us." "Overall, a solid effort by the entire team. We were pretty pumped to have won!!"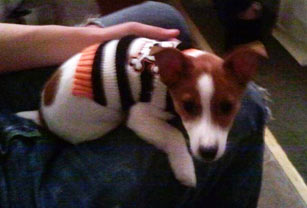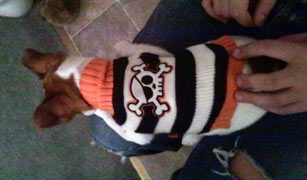 Gucci became the proud father of "Kash," a 4-month old Jack Russell terrier, on Christmas Eve. As you can see, Kash Gugglelmelli (who Gucci says is a "psycho") was promptly outfitted in Pirate-appropriate Winter attire. Congrats Gucci!



FOR THE RECORD
Attendance (players): Cassens, Farkas, Hand, LeMatty, Newcomb, Nigro, Gesior (sub). Net: Nikola.
Scratches: DiPierro, Gucci, Irausquin, Nicolosi.
Scoring: 1st period: 0-0 tie. 3rd period: 3-2 Pirates: Goals by by Farkas (LeMatty); Newcomb (Hand); Farkas (Gesior).
date of game: 1.16.11