SUNDAYS #6 vs. LUNCH LADIES:
(vol. 44S, no. 6; newsletter by r.n.)
editor's note: And now another installment by our very own Captain. This one is no doubt destined to be a newsletter classic ...
Seeing all the Canadians in the NHL All-Star game line-ups has me thinking French Canadian. You must read the following with a bad French accent like the goalie from Slap Shot.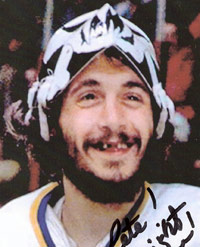 The Pirate de Cote (the Coastal Pirates) came out hitting on all cylinders against the Femme de Dejeuner (translated as the Ladies of Lunch). The Femmes did tally first as the Pirate de Cote "Capitaine" (Pirates Captain) sent out the late arriving "Garcon Savage" (Wildman) to play defense instead of Brian Newcomb (no translation, they've seen him play and blocked him at the border). An ill-timed pinch and a goal and we were down. Put that one on the "Capitaine." As the French say: "Faire la Guerre" (loosely translated as it is "the work of the war" and is used as an excuse when shit happens under pressure, got to love the French).

The "defencemen" of the Pirate de Cote then took over. Rapid fire goals by Eddie and an end-to-end rush by the "Train de Merchandise" (Gucci the freight train) gave the Pirate the lead for good. A goal by the "Capitaine" off a sweet feed from LeMatty (that is French already, no?) and a break away by Joe Nigro sealed the victory. An open-netter by LeMatty was the "piece de resistance."

Really I just wanted an excuse to call them Femmes ... (kidding of course boys).



FOR THE RECORD
Attendance (players): Cassens, DiPierro, Farkas, Gucci, Irausquin, LeMatty, Newcomb, Nicolosi, Nigro, Gesior (sub). Net: Harris.
Scratches: Hand.
Scoring: 1st period: 3-1 Pirates: Goals by Gucci (none); Gesior (Harris); Nicolosi (LeMatty). 3rd period: 5-1 Goals by Nigro (Wildman); LeMatty (none), empty net.
date of game: 1.30.11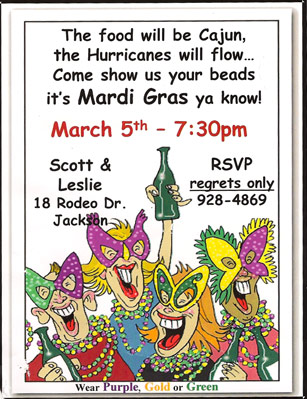 PAR-TAAAAY!
SAVE THE DATE: MARDI GRAS BASH
Here's the official save-the-date for Scott & Leslie Miller's Annual Mardi Gras Bash. We don't have to tell you that after PirateFest, this is the "social event of the season." Don't miss it ....
Click photo to open large PDF