SUNDAYS #9 vs. BULLDOGS:
(vol. 44S, no. 9; newsletter by r.n.)
editor's note: The Captain writes us from the bar at Deep Blue in Wilmington, Delaware ...
The long and storied history of the full-time Sunday goaltending of Harris Siegel comes to a most frustrating end as the Pirates bow out of the Playoffs despite a spirited effort vs. the Bulldogs. In the first of what will surely be many sentimental goodbyes, Harris played his tail off and kept the Pirates within screaming distance against the talented 'dogs.

Glenn Farkas scored that third goal he needed from last week on a bizarre tip of a Joe Nigro shot but our chances were very limited. Scott brought his grit — as did Dan — as they battled Mr. Wonderful of the 'dogs as he added to his long-standing history of chippy play and outrageously inappropriate statements. Dan took justified exception to a stick to the head and Scott battled after a crosscheck. Of course this all occurred after the game was out of touch and such antics reap no true penalty to the 'dogs. (editor's note: the final period featured 16:00-minutes of penalties, the most-ever in a period of Pirate Playoff hockey and tied for second all-time in the "most penalties per period" category on the "Legends" link. Incidentally, 12 of those minutes were awarded to the Bulldogs.)

Needless to say, all this was a distraction from the issue of losing the game and the reality of a part time Harris on Sundays going forward. Harris is the Coastal Pirates organization now and in the future. Without him, we will be only trying to hold up the standards he has set for us for fairness, creativity and commitment. The Pirate Nation wishes Harris and Denise great success and happiness in their trips to-and-fro work in Maryland and only hope fate can find a way for them to find a way back to Shark River and The Pirates on a permanent basis for once and all! Harris ... Thank you.



FOR THE RECORD
Attendance (players): Cassens, DiPierro, Farkas, Gucci, Hand, Irausquin, LeMatty, Newcomb, Nicolosi, Nigro. Net: Harris.
Scratches: none.
Scoring: 1st period: 4-1 Bulldogs: Goal by Farkas (Nigro). 3rd period: 6-1 Bulldogs.
date of game: 2.27.11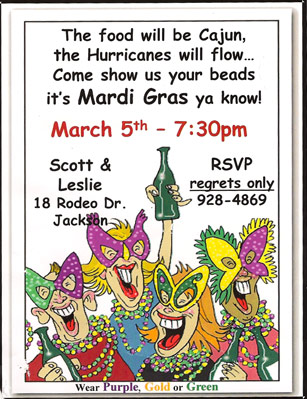 PAR-TAAAAY!
THIS SATURDAY: MARDI GRAS BASH
The wait is over! This weekend is Scott & Leslie Miller's Annual Mardi Gras Bash. We don't have to tell you that after PirateFest, this is the "social event of the season." Don't miss it ....
Click photo to open large PDF