WEDNESDAYS #9 vs. THE HURT:
(vol. 45W, no. 9; newsletter by b.n)
They say: "All Good Things Must Come to an End." And while I am probably almost certain that I have used that lead once before, it has never been so true ... wait not so fast ... after a 1st period where the Coastal Pirates were maybe a little lethargic and battled The Hurt to a 0-0 tie, it looked like the "AH" era was set to begin. (That would be the "A"fter "H"arris era by the way. I know how much he hates using the quote marks, but being as this could have been his last newsletter, I figured he could bury his angst for at least one more time.)

So there it was ... for me I have known the Coastal Pirate™ Brand from back late in the 90's when they played in the old Eatontown Rink (it was so long ago that the building has since collapsed and is now a vacant piece of land) ... but I digress as usual. Anyway, stepping into the final period it didn't take long for the Pirates to click: First it was #67 dumping the puck into zone where LeMatty picked it up and got it back to #67, who hit Russ streaking to the net for the first score; then on the same shift Russ got his second on a feed from LeMatty; next Kenny G would take it to 3-0 on a feed from Wildman. But with just :90 seconds remaining in the shutout, a crazy line change happened, followed by a bizarre drop of the puck and The Hurt would make it 3-1. Fortunately, a tally by Scott Miller from KennyG quashed any comeback and you had the makings of a "Final" Final Appearance by the CPWH (that would be the Coastal Pirates "W"ith "H"arris).

But wait before the game would finish out there was one more possible last thing to happen ... with the bench yelling for the Captain, Russ jumped back on rink and was rewarded with a pass from Wildman, that sprung him on the breakaway, that converted into perhaps his last hattrick "W"ith "H"arris.

With all the said, "All Good Things Will Come to an End" next Wednesday. One way or another, it will be the final game with Harris as part of the regular lineup.

FOR THE RECORD
Attendance (players): Cassens, Genalo, Gesior, Gucci, LeMatty, Matthews, McLaughlin, Miller, Newcomb, Nicolosi. Net: Harris.
Scratches: none.
Scoring: 1st period: 0-0 tie. 3rd period: 5-1 Pirates: Goals by Nicolosi (LeMatty, Newcomb); Nicolosi (LeMatty, Cassens); Genalo (Cassens); Miller (Genalo); Nicolosi (Cassens).
date of game: 3.09.11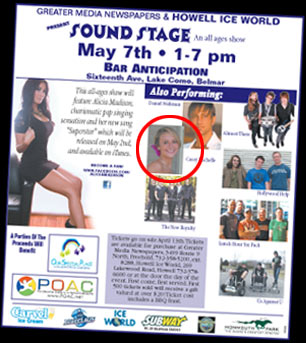 SAVE THE DATE: MAY 7 AT BAR A
The Nicolosi-Rochelle Clan are always active in charitable causes, but lately they've literally been active in them: First the Cap'n played against former Devils for a good cause, and now Kate's daughter Casey (circled in the poster above) is performing at Bar Anticipation to raise money for Autism. Let's get some Pirates in the crowd to cheer her on!