SUNDAYS #10 vs. RED STARS:
(vol. 22S, no. 10; newsletter by k.r.)
Judging by the lineup at Sunday's game, it looks as though the aliens Brian mentioned in his last newsletter stayed around a little longer. That's because alien abduction is the only thing that could explain the paltry Pirate turnout against the Red Stars. The roster for our second last game of the regular season consisted of five forwards, two defensemen and a goalie — not quite the depth you would like when you line-up against an A-division team. But I guess all will be forgiven: After all, it is Summer and those aliens can be very persuasive.

Harris, Kevin, Keith, Glenn, Chris, and Dan were the only "normal" Pirates in attendance; they were joined by guest stars Roger and Scooby. All-in-all those eight played a spirited game, before eventually running out of gas. Although the outcome may have been a foregone conclusion, it was the Men In Black who would dent the twine first; Kevin took a pass out of the corner from Chris and blasted it past the keeper for the 1-0 lead halfway through the 1st period (Chris had trying to feed Keith a couple of times the same way but finally decided to try and his luck with the other defenseman who has the better scoring touch). The forwards were doing a good job of getting the puck to the points. Kevin and Keith played ironman so it was by necessity that they got involved in the offense sooner rather than later. The Stars were able to tie things up before the break, but the a 1-1 score at the end of the 1st period was a moral victory for the short-staffed squad.

Unfortunately, the Stars tallied a four-goal final period — including a powerplay goal and a score in the final 2:00 minutes. If not for some well-placed shots by Downey, it may have been a different game. With one more game until the playoffs, take a moment and look skywards: If you see any flashing lights, please tell the Little Green Men to give back the Pirates back their roster. We need them.
date of game: 8.14.05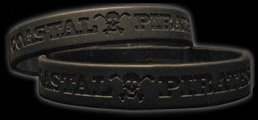 In an effort to "get the crowd going," Pirate marketing unveiled the "Buccaneer Bracelet" before gametime. The strategy worked for the first 30:00 minutes, as the Pirates were able to keep the Red Stars in check with a 1-1 score. Click on the image above to read all about the latest Pirate treasure.