WEDNESDAYS #3 vs. HOCKY TEEM:
(vol. 44W, no. 3; newsletter by b.n.)
The best part about writing the newsletter is ... Well ma (editor's note: this was end of the first email)

Ok let me start over. The best thing about writing the newsletter is ... Well. Really there really isn't a best thing. Just a lot of little mediocre things. That if added together would sum up to something moderately worthwhile. But enough on that. There was a game last week. And the most amazing thing about it was that it wasn't on a Monday! (It is a Wednesday night league after all.) So since it was on a Wednesday there was an appearance made by KennyG. I didn't even remember that he was on the roster.

And while we are on the subject of Monday night games ... Even though you might have heard that the Pirates had played their last Monday night game of the season, the schedule was recently released and you guessed it there is still more Monday games to play. With Russ on the IR, I was pretty confused on what the roster is. I think Scott Miller went to see Pink Floyd. So the line-up seemed a little juggled and Kevin ended-up on offense. And as things would go it turned out to be a good thing because Kevin would end up scoring a few.

... And the Pirates would win.

FOR THE RECORD
Attendance (players): Cassens, Genalo, Gesior, Gucci, LeMatty, McLaughlin, Maccanico, Newcomb, Baio (sub). Net: Harris.
Scratches: Miller, Nicolosi.
Scoring: 1st period: 4-2 Pirates: Goals by McLaughlin (Maccanico); Maccanico (Genalo), PPG; McLaughlin (Maccanico); McLaughlin (Maccanico). 3rd period: 5-2 Pirates: Goal by McLaughlin (none).
date of game: 11.03.10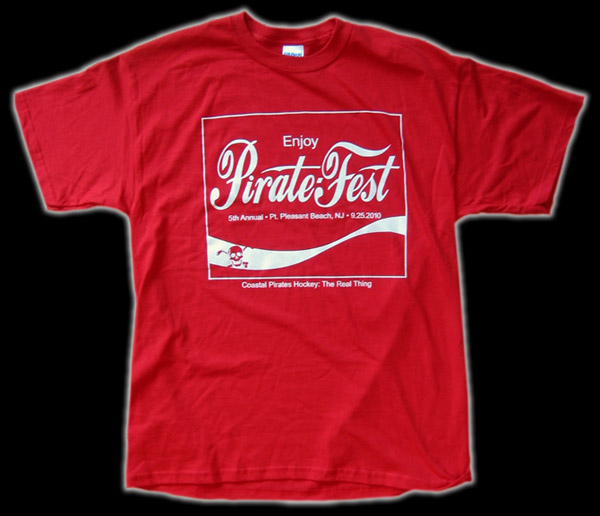 RELIVE THE MAGIC
It's still not too late to own a piece of history and have the event shirt from this year's PirateFest. A handful of the limited-edition tees are still available for just $8/each. You can't even buy a sliced-steak sandwich at Edgars for that!

[ full description / click here ]
[ view piratefest V pics / click here ]



WON 5-2
THE
SILVER
SKULLS




1) KEVIN MCLAUGHLIN
For 4 out of the 5 tallies.

2) MARTY MACCANICO
For his 4-point night.

3) KEN GENALO
For his first Wednesday appearance and successfully centering the new MKM-line.